Our software makes custom ordering a breeze.
Just choose your products, upload your images, and check out!
You can sign up and download our software here, compatible with Mac and PC.
---
Step 1: Choose a product
At this screen, you can select a product from the list and enter in your custom size. Your most frequently-used sizes for canvases, frames and glassless products will also be listed to make ordering easier.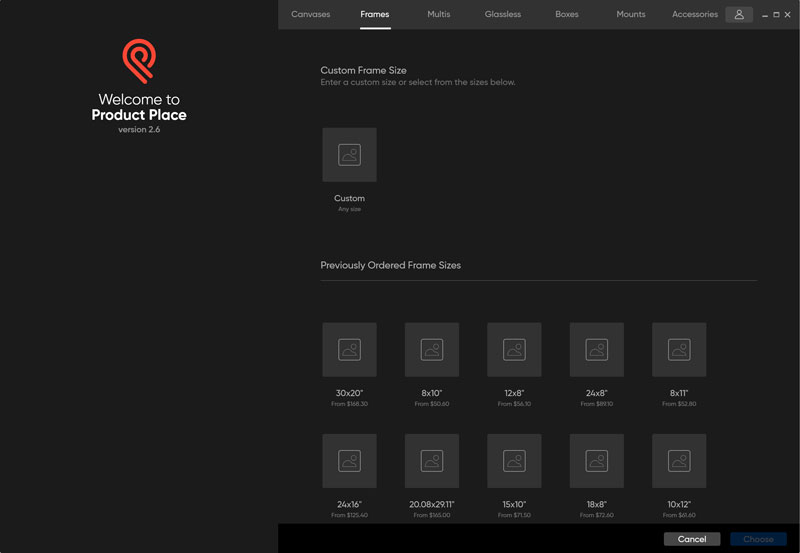 Step 2: Add your image and customise the details of your order
For canvases, frames, multis, mounts and glassless screens, you can click to browse and add an image. Once added, you can scroll to zoom and click and drag to pan the image.
Canvases: On the canvases screen, you can choose the type of finish and the wrap type. The colour of both the top and bottom wrap can be chosen if you don't want a part of the image (such as the subject's head or body) to wrap around the canvas. If you choose the framed wrap type, you can also choose the frame style.
Frames: On the frames screen, you can type in a new size, and choose your frame style. Mat thickness and colour can be changed. Choosing "floating" will enable the torn edge option.
Glassless: On the glassless screen, size and frame type can be changed. You can also change the finish.
Multis: On the multis screen, you can change each image individually. Frame type, mat colour and glass type can also be changed. Choosing "floating" will enable the torn edge option for each image.
Mounts: On the mounts screen, you can click each mount to add an image or you can leave them with no images if you want blank mounts. If you do add an image, you can select the type of print you prefer.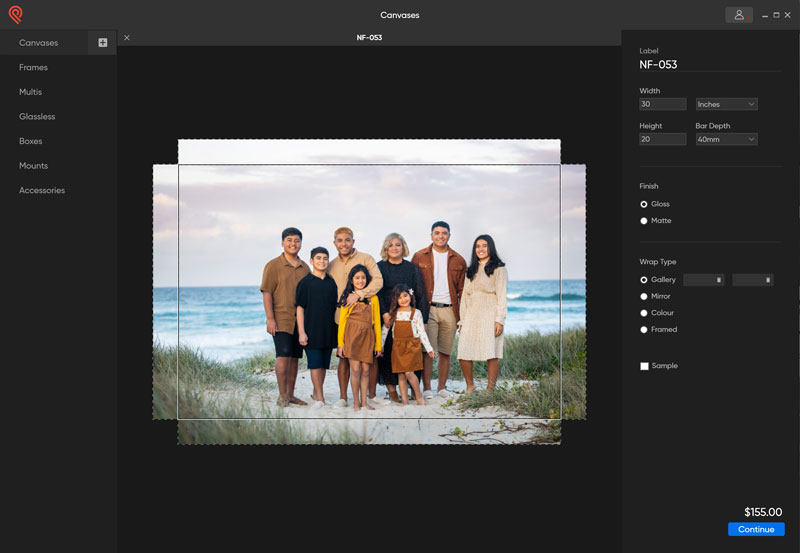 Step 3: Enter delivery details and place your order
After you're satisfied with your custom order selections, click "continue" to progress to the shopping cart screen.
On this screen, you can select your shipping details. You can add your client's address if you would like to ship some of your order directly to them. Items on the right can be changed to each address you add.
Next, you can continue to view the payment options. Once you have chosen your preferred payment method, you can complete the order. Your images will be uploaded to us and you will receive a confirmation email once it's finished. After your order has shipped, you will receive a tracking number.
Still have questions about the Product Place ordering software or process? Submit an enquiry to our support team for friendly assistance with your custom order.